INFORICH INC. (HQ: Shibuya Ward, Tokyo, CEO & President: Hironobu Akiyama), operator of the Mobile Battery Sharing Service
"ChargeSPOT" and JAGAT TECHNOLOGY PTE. LTD (hereafter, JAGAT), the company behind the real time location sharing
app "Jagat", are pleased to announce that they have concluded a basic agreement for a strategic alliance in location services.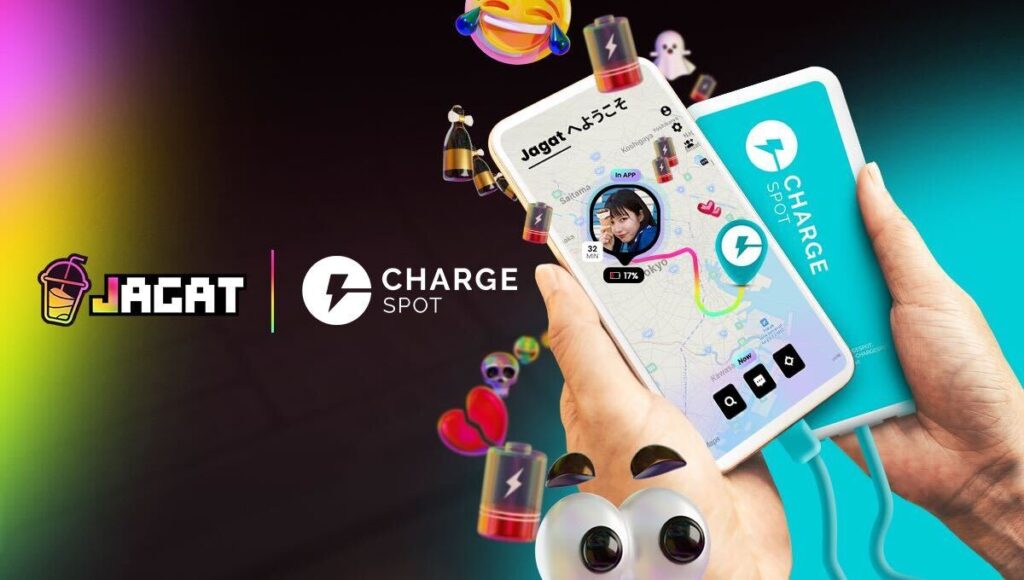 Jagat App, the real time location sharing social app growing strongly among Gen Zers, is collaborating with ChargeSPOT,
Japan's No. 1* Mobile Battery Sharing Service in order to expand the service presence of both companies in
major global markets, such as Japan, Hong Kong, Taiwan, and Thailand. *As per INFORICH Research.
Given the ability to see user's battery levels inside Jagat App, the compatibility with ChargeSPOT is high, and
further integration measures such as displaying ChargeSPOT locations inside the Jagat App or sharing discount coupons
between users are under consideration.
In the future, further integration and additional features will also be considered, with the aim of expanding
recognition and usage of ChargeSPOT.
Comment from JAGAT Co-Founder & President, Barry Beagen:
We are very pleased to be building such a global partnership. At Jagat, our goal is not just to provide our users with a fun
social networking experience, but to build an extension of reality for real connections in real life. Providing them with  
essential services is a core part of that.  We  are thrilled to have found a partner who shares similar vision.
Comment from INFORICH CEO & President, Hironobu Akiyama:
We are excited to work with Jagat App and combine our expertise to break new ground. By leveraging our market leadership
in power bank rentals and Jagat App's cutting-edge location sharing capabilities, we will unlock tremendous potential
and revolutionize the way people consume shared utilities. This partnership represents a new era in location-based services
and we look forward to making a lasting impact.
■About Jagat App
Jagat App is a rapidly growing  global SNS app that allows users to share their location information in real time. With a
strong user base in Japan and Taiwan, the app has gained international recognition and has topped charts in various
countries. Backed by leading investors in the region, Jagat App is on a mission to build the next generation social
networking platform.