INFORICH INC. (Headquarters: Shibuya Ward, Tokyo, President & CEO: Hironobu Akiyama, hereinafter referred to as "INFORICH"), which develops the mobile battery sharing service "ChargeSPOT" and T-Gaia Corporation (Shibuya Ward, Tokyo, President & CEO: Masato Ishida, hereinafter "T-Gaia") have agreed to franchise "ChargeSPOT" in Singapore based on the master franchise agreement concluded on 16th March, 2023 via T-Gaia's local subsidiary, T-Gaia Asia Pacific Pte.Ltd. (hereinafter "TGAP"),.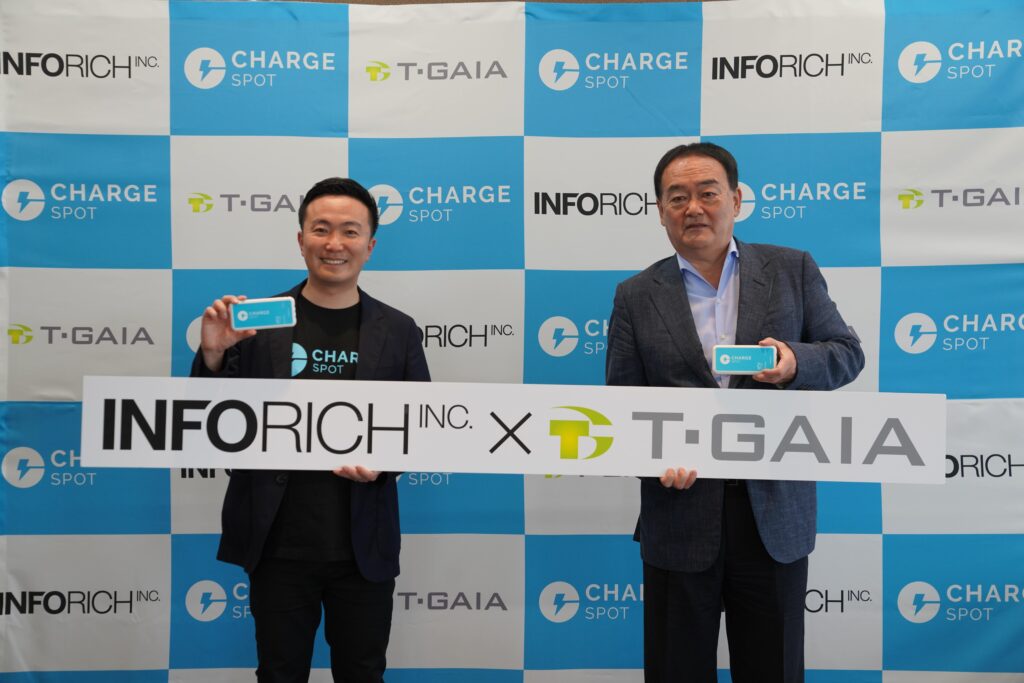 Background & Objectives of Singapore Market Entry
In addition to Japan, INFORICH operates "ChargeSPOT" in five regions: Hong Kong, Mainland China, Taiwan and Thailand.
There are currently approximately 52,000 "ChargeSPOT" machines installed throughout Asia, and the number of installations is continuing to grow.
As part of the company's growth strategy, the company is working on global expansion of its mobile battery sharing business, with particular focus on Asia.
T-Gaia, via TGAP has been distributing prepaid card products such as gift cards in Singapore since 2014 to convenience stores & supermarkets. Thanks to its sales network of over 1,000 locations, it has developed its business development know-how.
Smartphones are widely used for various applications and contents such as games, SNS, and videos, as well as for payment when purchasing products and services, and have become an indispensable part of social infrastructure.
In addition to its high density population and high smartphone penetration rate, Singapore is a region with a large number of tourists and other travelers from overseas, which leads us to believe it is a promising market with high affinity for the mobile battery sharing business.
INFORICH and T-Gaia will bring together their accumulated strengths and know-how and use these to expand their global business and demonstrate their presence in the overall sharing economy area, starting with the "ChargeSPOT" business in Singapore.
■ For Inquiries
For Press-related inquries:
INFORICH INC., ChargeSPOT Public Relations Department PR Manager: Kimura
Mail:      press@inforichjapan.com
For inquries relating to this article
INFORICH INC. ChargeSPOT Overseas Department Representative: Obayashi
Mail:      global@inforichjapan.com